We want to share how Pointly's automatic point cloud classification works and invite you to test our Standard Classifiers for free on the platform.
Our Point Cloud Standard Classifiers
To automate point cloud segmentation and labelling, we have approaches to efficiently train deep learning models for automatic point cloud segmentation.
As the name already implies, our standard classifiers use certain presets to automate classification for specific data types. Our fully automatic classifiers can be optimized for efficient point cloud classification with any data type, such as for:
• Airborne laser scans
• Mobile Mapping Surveys
• Terrestrial Scans
How does point cloud classification work?
After repeated training of a model algorithm, they automatically detect certain classes within point clouds with utmost precision. The result? A stable base classification helps you to work efficiently, saving time and resources. So far, we have finished training and optimizing the following standard classifiers:
• Ground Classifier
• ALS Classifier
• More to come
100% automatic classification with our extensive ALS Standard Classifier
The ALS Standard Classifier fully automatically detects several classes, including:
• Ground
• Vegetation
• Buildings
• Vehicles
• Power lines
This classifier was trained and optimized for airborne laser scans with intensity values and point densities between 10 to 50ppm². We regularly retrain the classifier with more data to make it even better. It is directly available on the Pointly platform and you can test it with your own data for free.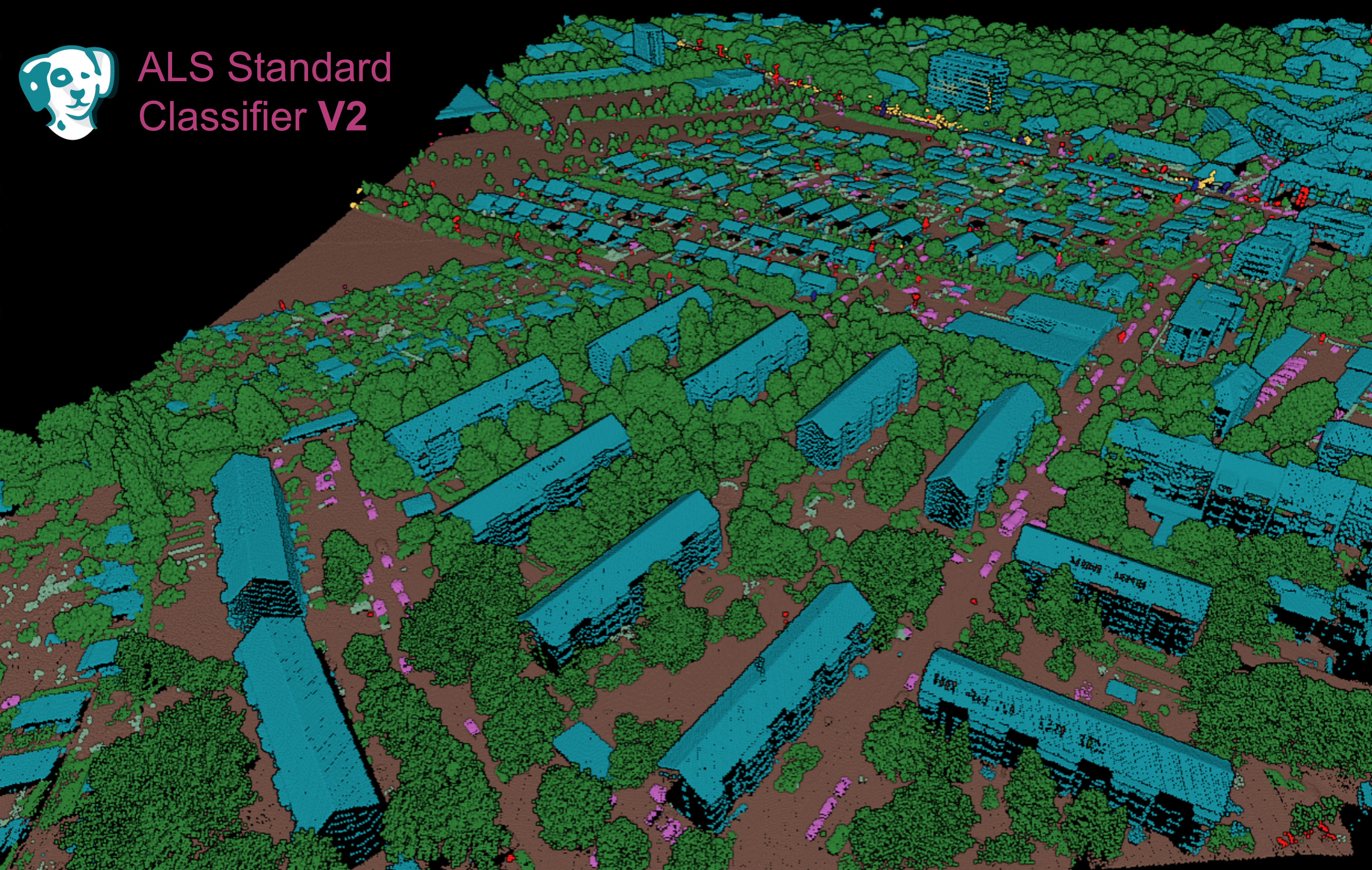 Benefit from quick and easy classification of your point clouds for your specific use case
Point Cloud Classification for Ground Data with our Ground Classifier
We also provide a more traditional Standard Classifier to extract and classify ground points. Usually, the ground is rather difficult to classify, since it takes a lot of effort to cleanly separate it from connected objects. Optimized specifically for airborne laser scans, it allows for automatic point cloud classification of the ground.
What can the Ground Classifier be used for?
1. It automatically extracts ground points which can be leveraged to create accurate ground models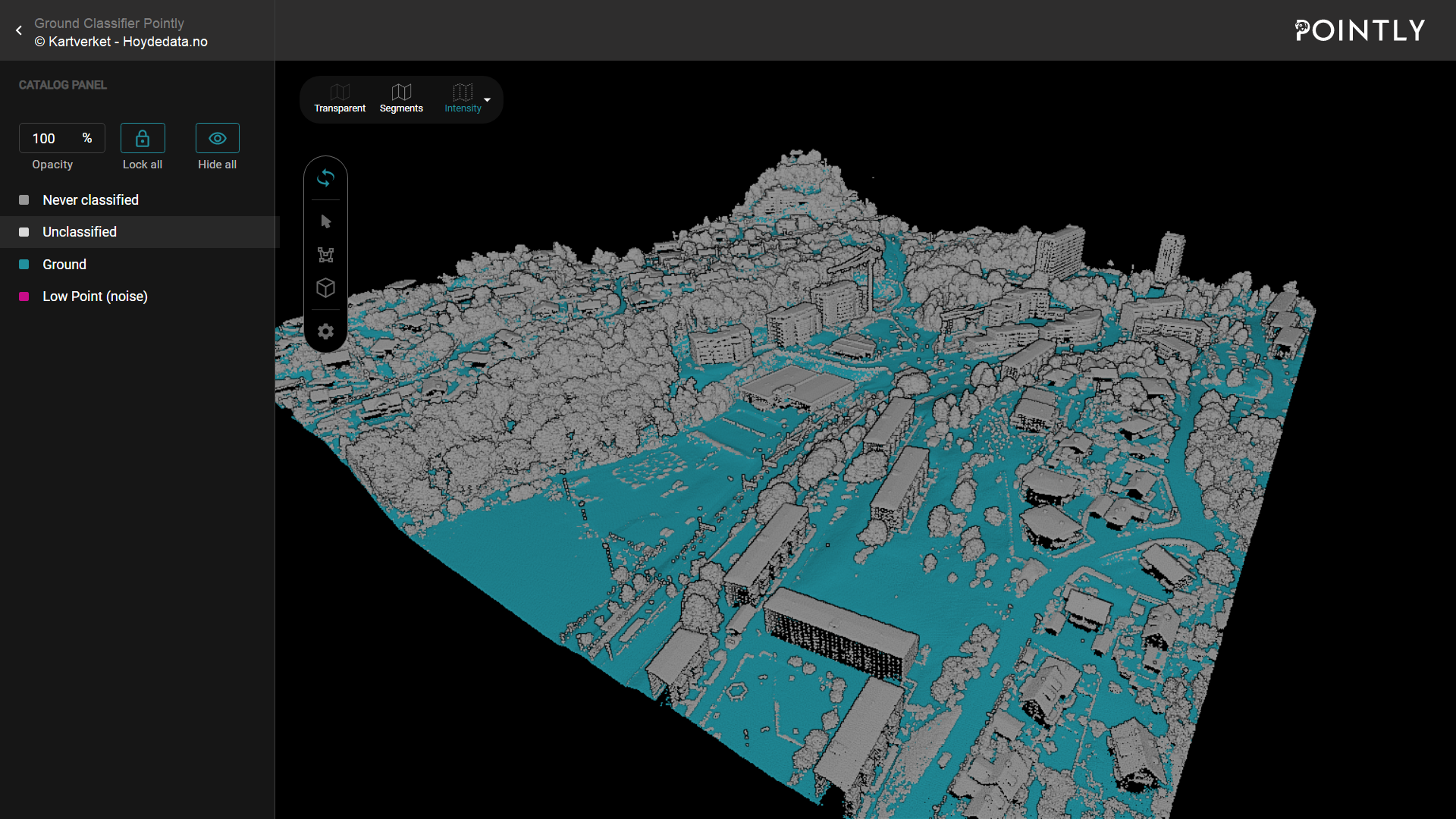 2. With a clear ground model, you can classify other objects much easier with help of Pointly's other tools. Locking the already classified ground makes it easy to classify cars, buildings or vegetation with just a few polygons: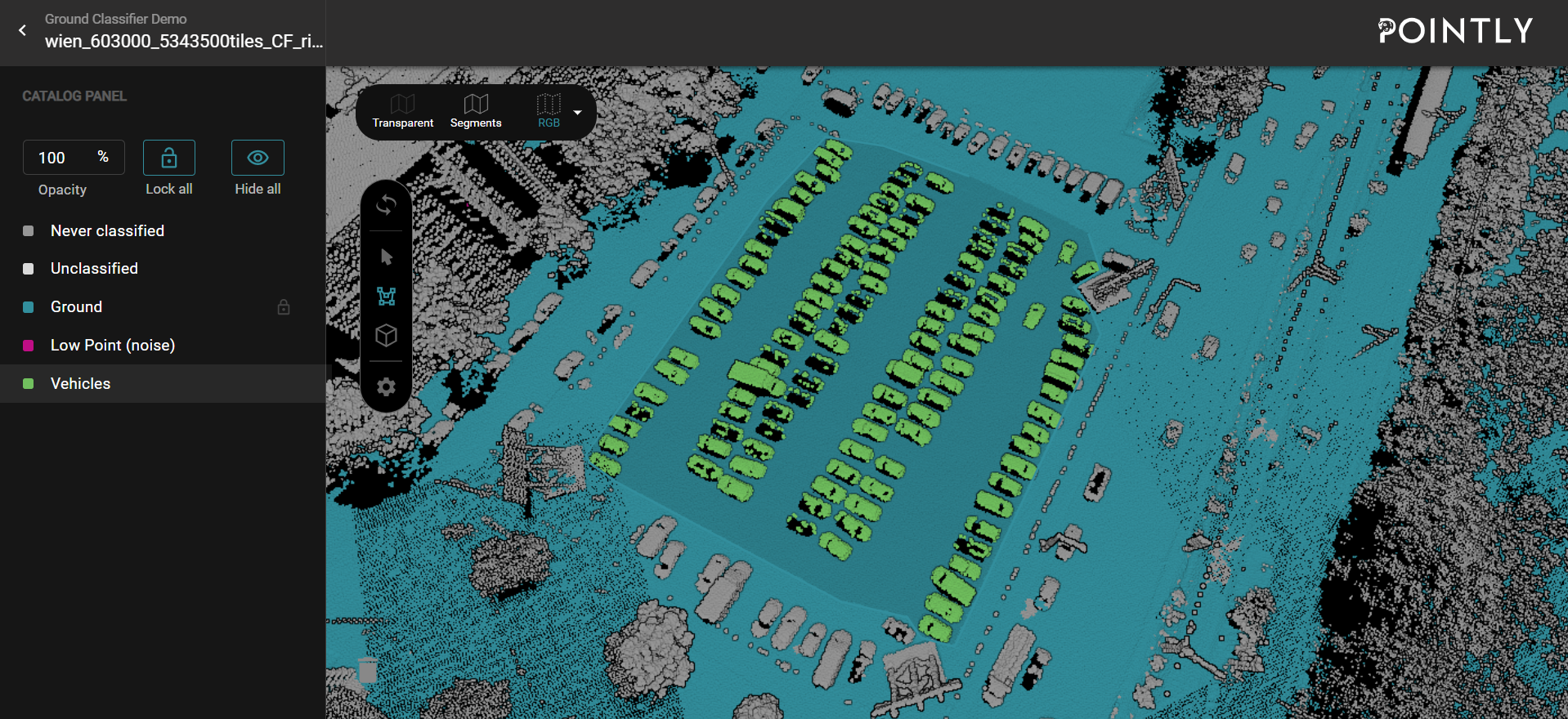 Locking the ground class allows to cleanly label other objects such as the cars pictured in green here
See the process in a short video
youtu.be/UFtV8rOBD34
How you can test the Standard Classifier for free
Working with point cloud standard classification is incredibly easy. You can simply create a
Free Account
and upload up to 3 point clouds with up to 15 MPoints each. It is possible to apply the Standard Classifiers on your data and use the manual classification tools for corrections. Upon uploading, you simply pick the type of classifier you want to apply to your point cloud:
1. Create a Free Pointly Account and upload your point cloud file (in the LAS/LAZ format)
2. Under "Select Classifier" you choose the fitting classifier for your project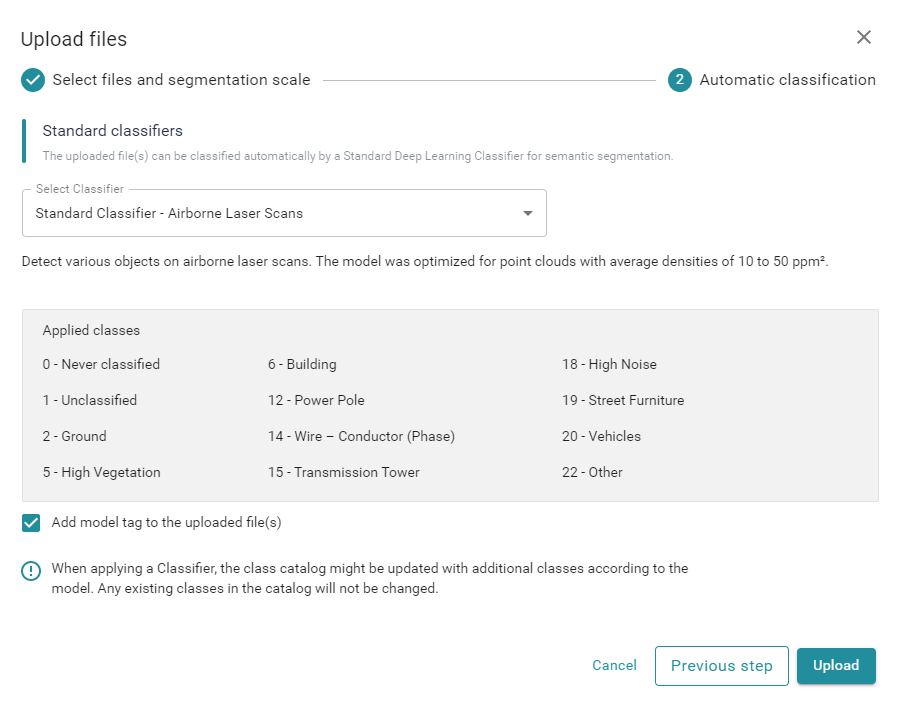 3. After clicking on Upload, your files will be automatically processed. The duration depends on the number of points and can take from a few minutes up to 1+ hour for very large point clouds (100+ MPoints).
4. Once the professing was finished, you can directly view the results in the web based point cloud viewer.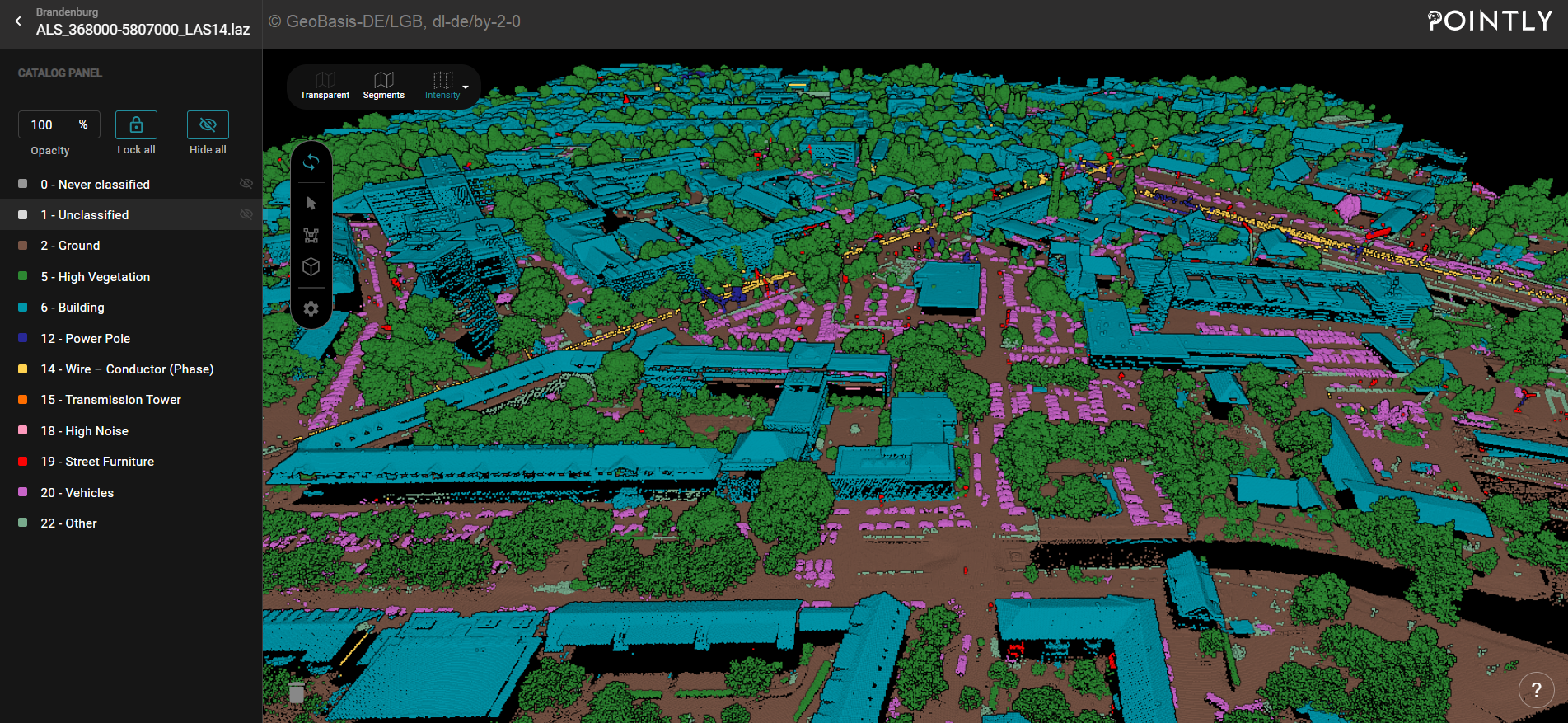 Fully automated classification for airborne laser scans
The pricing for monthly subscriptions can be found on our
website
. The 2 Standard Classifiers are included in all Professional Accounts.
How do we train our Point Cloud Classifiers?
We thoroughly train our AI models to automate the process of point cloud classification in an iterative process so that the models will become better and better over time.
1. Pointly starts with the creation of training datasets, typically by enhancing pre-classified data with Pointly's manual classification tools.
2. This data is then repeatedly fed into the classification model for training.
3. Minor errors in the classification results are corrected and the algorithm iteratively learns through the manual input.
The result is a model for automatic point cloud classification of your dataset. If you are curious to see the results for yourself, you can test all standard classifiers with a Free Pointly Account!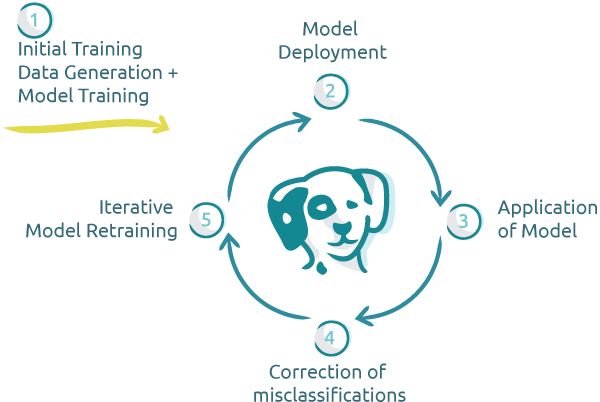 The iterative training model creates more accurate output with each cycle
More classifiers to come
Pointly can teach classification algorithms to automatically detect any type of desired object, given enough time and input training data. Next to our current classifiers, we are planning to train more classification models in the future:
• Detection of vegetation in combination with ground data for forestry
• Detection of buildings and street assets for urban projects or city inventories
• Detection of vehicles, street assets, and street markings for mobile mapping in cities and on highways
• and many more use cases!
If you want to classify point clouds using our trained models, you can test all standard classifiers with a
Free Account
. Alternatively, we can train a custom classifier tailored towards your specific use case.
Getting your own Custom Classifiers
If you are working with large scale surveys and repeatedly need to extract specific object classes, a Custom Classifier might be exactly what you need. We can train the right custom classifier just for you and make it available to your Pointly account. As for the Standard Classifier, the Custom Classifier progressively gets more accurate through iterative learning with an elaborate AI workflow.
For what kind of classifiers do you see great potential and what projects would benefit from fast efficient classification? I'd love to hear your thoughts!